FREE Roofing Process Guide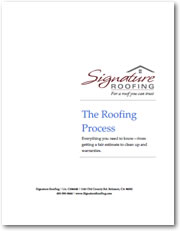 Do you know what to look for in an estimate? What about liability insurance? Do permits need to be pulled? What if dry rot is found? What decking should go underneath the shingles? Will you be finding nails in your tires for months?
The more you know about the roofing process, the more likely you are to catch potential issues before they become expensive problems. You'd never allow someone in your home without knowing exactly what he's doing. Just because he's outside, why should your roofer be any different?
Request our FREE Roofing Process Guide Today by completing the short form below. No one will contact you and you are under no obligation whatsoever.