Santa Clara Roofing Company and Reroofing Contractor
Signature Roofing, Inc. is a Licensed Santa Clara Roofing Contractor in CA
Signature Roofing, Inc. is a full-service licensed Santa Clara roofing company. Our roofing contractors specialize in residential reroofing and roofing services.
Signature Roofing, Inc.'s roofing installers are GAF certified installers and CertainTeed certified installers. With nearly 6,000 residential roofs installed, you can feel confident trusting Signature Roofing, Inc. with your roofing project.
Request FREE Estimate
Finding the Right Santa Clara Roofing Company
Choosing a residential roofing company can be difficult. There are many Santa Clara roofing contractors, but Signature Roofing, Inc. is one of the few roofing companies that:
Gives you a written quote on the same day as the residential roofing or reroofing estimate
Never files pre-lien notices on your Santa Clara home like other roofing companies do
Only takes a $100 deposit instead of $1,000 or more as law allows
Mails your invoice after finishing the services and you're satisfied with our work and clean up
Has a separate crew dedicated to daily and final clean up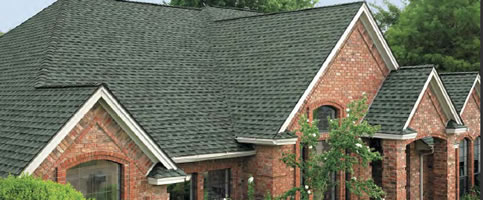 Signature Roofing, Inc. maintains and follows all California and local Santa Clara regulations to protect you against liability issues (not to mention irritated neighbors and future roofing inspection problems should you ever put your Santa Clara home on the market):
We carry not $1, but $2 million in liability insurance and required Workers' Comp
We are CA licensed in good standing with a complaint-free record
We hold a valid Santa Clara, CA business license
We obtain building permits and schedule city inspections
Santa Clara, CA building inspectors know and respect our residential roofing services and reroofing work
We follow all Santa Clara building codes and work hour regulations to avoid disrupting you and your neighbors at night
California Contractor´s License: C686668
License Classification: C-39 Roofing, General Building Contractor
Make sure any Santa Clara roofing contractor is properly licensed and insured to perform roofing services of any kind on your home. Always ask for copies of the roofer's license and insurance certificates when receiving a service estimate.
Request FREE Estimate
What Residential Roofing Services or Reroofing Services are Included in Your Quote?
Removing your old roof: Before the new residential roof is installed, the old one must be removed. It's a messy process, but we tarp everything we can to minimize the debris.
Replacing dry rot: Most dry rot can't be detected until the old roof is removed. Fortunately, Santa Clara homes have very little, if any, dry rot. We'll replace dry rot if necessary, and never install a new roof over it.
Installing new decking: Asphalt shingles need a solid surface for installation. We use plywood or oriented strand board depending on your preference.
Replacing or reusing gutters and downspouts: If your gutters and downspouts are in good shape, we'll leave them in place to avoid damaging them. If they're past their prime, we offer traditional gutter replacement and repair, plus seamless gutter installation. Seamless gutters are superior to traditional guttering since there are no seams to split or break. We fabricate them at your home for a custom fit.
Installing asphalt roofing shingles: This stage involves installing new metal flashings, roof underlayment, and finally the asphalt shingles.
The final clean up: All debris and any excess materials are removed from the roof, the grounds of your property and the garage. Protective tarping is removed. A blower is used for small particles and a magnet sweeper picks up nails and staples.
Get a FREE roofing quote from a licensed Santa Clara, CA roofing company. Signature Roofing, Inc.'s residential roofing estimates include:
All material, labor, permits and sales tax costs
A list of homes we've roofed in your area so you can look at shingles, colors and quality in the "real" world
Our residential Roofing Process Guide — 17 pages of must-have info, especially if you're in the early planning and budgeting stages or go with another roofing company
Request FREE Estimate