A Roofing Company San Mateo and Santa Clara County Homeowners Trust
Signature Roofing's Services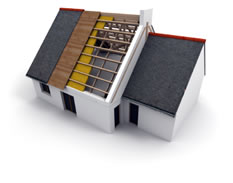 Signature Roofing is a full-service residential roofing company, installing asphalt shingle roofs on homes throughout the San Francisco Peninsula and South Bay areas. Signature Roofing's employees receive manufacturer training in order to become Certified Installers for both GAF and CertainTeed
When you're choosing a residential roofing company, it's important to hire a company that has manufacturer-trained roofers doing the roofing or reroofing services. Residential roofing companies that don't invest in this roofing training may not use the latest installation techniques designed to make your roof last for years to come.
Signature Roofing company provides comprehensive residential roofing and reroofing services including:
Signature Roofing Removes Your Old Roof
Your roofing company must remove the old roof before the new roof is installed. It's a messy process for roofing companies, but Signature Roofing tarps everything to minimize the debris.
Signature Roofing Replaces Dry Rot
Be weary of residential roofing companies that include replacing dry rot in their original roofing estimate. Most dry rot can't be detected until your residential roofing company removes the old roof. Fortunately, Bay Area homes have very little, if any, dry rot. Signature Roofing company replaces dry rot if necessary, and will never cover up dry rot by installing a new roof on top of it.
Signature Roofing Installs New Decking
Your roofing company will lay down a solid surface on which to install your new asphalt roofing shingles. Roofing companies call this decking. Signature Roofing company recommends and uses plywood or oriented strand board depending on your preference.
Signature Roofing Replaces or Reuses Gutters and Downspouts
If your gutters and downspouts are in good shape, Signature Roofing company leaves them in place to avoid damaging them. If they're past their prime, we offer traditional gutter replacement and repair, plus seamless gutter installation. Seamless gutters are superior to traditional guttering since there are no seams to split or break. Signature Roofing company fabricates them at your home for a custom fit.
Signature Roofing Installs Asphalt Roofing Shingles
Signature Roofing company installs all new metal flashings, roof underlayment, and finally the asphalt shingles.
Signature Roofing Performs the Final Clean Up
All debris and any excess materials are removed from the roof, the grounds of your property and the garage. Protective tarping is removed. A blower is used for small particles and a magnet sweeper picks up nails and staples.
Download Signature Roofing company's 17-page guide, The Roofing Process, for an in-depth look at how residential roofing companies tackle roofing. It's a must have for any homeowner reroofing, installing a new roof and selecting a roofing company.
You can also request a FREE roofing estimate or simply call us today at 650-598-5444 to we will be happy to answer any of your residential roofing questions.