Signature Roofing, Inc. Only Installs the Best Roofing Shingles
GAF and CertainTeed Asphalt Shingles
Living on the Bay Area's San Francisco Peninsula, CertainTeed's and GAF's asphalt shingles are the best and smartest way to go. Asphalt roofing shingles (also called composition roofing shingles, fiberglass asphalt shingles, architectural roofing shingles, designer roofing shingles, and dimensional roofing shingles) have important advantages over other types of shingles.
Beautiful aesthetics and curb appeal: asphalt shingles' shading creates a rich, dimensional look and shadows for a high-end textured look
Long-lasting durability: this generation of asphalt roofing shingles have lifetime warranties and can be walked on without causing damage
Fire protection: these asphalt shingles have an "A" fire rating, the best on the market
Light weight: asphalt shingles usually weigh less than wet shake roofing shingles for less stress on load bearing structures
Less temperature fluctuation: with proper attic ventilation, asphalt shingles mean no noticeable change in indoor temperatures, especially in our climate
GAF and CertainTeed Dimensional Roofing Shingles
The most popular roofing shingles for our customers is the GAF Timberline. These dimensional asphalt roofing shingles are an economical choice and come in a wide range of colors with a lifetime warranty.
GAF Timberline HDZ is the most economical dimensional roofing shingle. The Timberline UHDZ is a slightly thicker version of the HDZ with enhanced StainGuard Plus Pro protection and dual band shadow lines to create a great shading visual effect, but not everyone can spot the difference from ground level.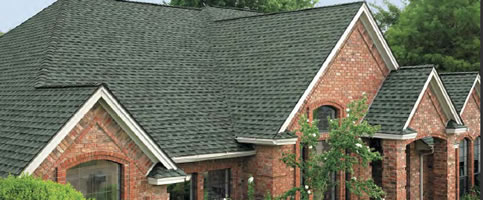 Open Timberline HDZ Brochure
Open Timberline UHDZ Brochure
CertainTeed offers the Landmark series of roofing shingle too, which is similar to GAF's Timberline shingle series. Landmark shingles rival Timberline in price, warranty and colors. Landmark Series offers four levels of high performance asphalt shingles in weight and thickness. The heavier the roofing shingle, the more depth, thickness and dimension it offers. All four offer the exceptional value of the industry's toughest fiberglass mat, the strongest materials available and the best warranty. Landmark Series asphalt shingles endure time and weather beautifully. They come with CertainTeed's exclusive StreakFighter™ warranty, protecting your roof from streaking that can be caused by airborne algae. Signature Roofing will install Landmark roofing shingles for the same price as equivalent Timberline shingles.
Open Landmark Brochure 
GAF and CertainTeed Luxury Roofing Shingles
GAF-Elk's Grand Sequoia Lifetime Designer roofing shingles are "Safer than wood shakes because they are UL Class A fire rated!" These roofing shingles have a fantastic appearance via a patented, extra-large design with oversized shingle tabs help create a realistic wood shake look. Its extra strong Micro Weave® core provides outstanding performance in all climates. Grand Sequoia roofing shingles come with a lifetime warranty.
Open Grand Sequoia Brochure 
GAF's Grand Canyon roofing shingles are only a fraction of the cost of traditional slate or expensive wood shake shingles. Artisan-crafted shingle shape combined with oversized tabs and a dimensional design results in a sophisticated beauty unmatched by typical asphalt shingles. A specially formulated color palette accentuates the roofing shingle's natural appeal.
Open Grand Canyon Brochure
CertainTeed's official name for this series is Presidential Shake roofing shingles. Don't let the name fool you. The Presidential series is an asphalt shingle that has a lifetime warranty and replicates the look of a cedar wood shake roof.
The Presidential series comes in two versions: regular and Presidential TL Ultimate. The regular version is a two- laminate roofing shingle and the TL is a thicker tri-laminate roofing shingle. In fact, you won't find a thicker asphalt shingle than the TL because it would be too heavy for most homes in our area.
Along with two-tone shading (light and dark) for dimension, Presidential roofing shingles include a zigzag pattern in the design, creating shadow lines that make the roofing shingle appear from ground level even thicker than it already is.
Open Presidential & TL Presidential Brochure
Solar Reflective Shingles (Title 24 compliant)
Both GAF and CertainTeed offer Title 24 compliant shingles in our area. Two examples are GAF Timberline Reflector Series and CertainTeed Landmark Solaris. With blending technology and innovative performance these shingle offer a wide variety of vibrant color options that help to reflect solar energy and radiate heat better than traditional roofing shingles.
Most cities on the peninsula are requiring Title 24 compliance with certain home projects and although reflective shingles are not mandatory for re-roofing projects it may be a different story in the coming years. With that in mind GAF and CertainTeed are looking towards the future.
The reflective shingles are currently available in the most popular shingle styles and for a little bit more in price offer reflective technology that reduces thermal shock and meets Title 24 cool roof requirements.
Open Timberline HD Reflector Series
See What These Asphalt Roofing Shingles Look Like in Real Life
Selecting your roofing material can be confusing. It's less so if you can see what the roofing shingles look like in real life. Visit our Roofing Projects page and pick a roof type and city to get a list of homes in your area that have a Signature Roofing, Inc. roof. Then drive around and see the possibilities. There are plenty of Timberline, Landmark, Grand Sequoia, Presidential and Grand Canyon roofing shingles in your area.
You can also download our comprehensive Roofing Process Guide or request a FREE roofing estimate or call us at 650-598-5444 to answer any of your roofing questions.